One of the most remote places on earth is Easter Island, which is about 2300 miles out into the Pacific Ocean from Chile. Over the years I had heard so much about it: the mystery, the conjecture, but even more than that, it was something I had to purposely plan extra time and budget (it's really far off the beaten track!), that it was a Must Do for a world traveler. It is a bit pricey to get there (the flight on LATAM was $1300), but I am exceedingly glad I bit the bullet and did it!
The 6+ hour flight from Santiago went off without a hitch, and there were plenty of taxis to catch from the tiny airport, Mataveri, in Hanga Roa (the main town with a majority of the population) to my hotel. The island is so small, the vendors all know when the plane arrives, and no one is around unless it is around arrival and departure times. I booked my package tour with Easter Island Spirit (www.easterislandspirit.com), and can recommend James and his team for their response time (keep in mind, the Wifi is spotty that far out into the ocean!), flexibility with my needs and professionalism.
Over the next 2.5 days, my guide, Chris, took me all over the island, and lucky for me, he was actually a renowned expert and sought-after speaker on Rapa Nui history and culture, having presented papers and lectures all over the world. He had met and married a local girl 20 years before, and even though they divorced, he stayed on the island to raise his daughters. The reason that story is interesting is NO outsiders are allowed to stay, live or own property on the island, unless you marry a native. It is a very tight knit community and they have preserved their traditions and bloodlines with strict guidelines. To even be allowed to visit, I had to show proof I had a return flight!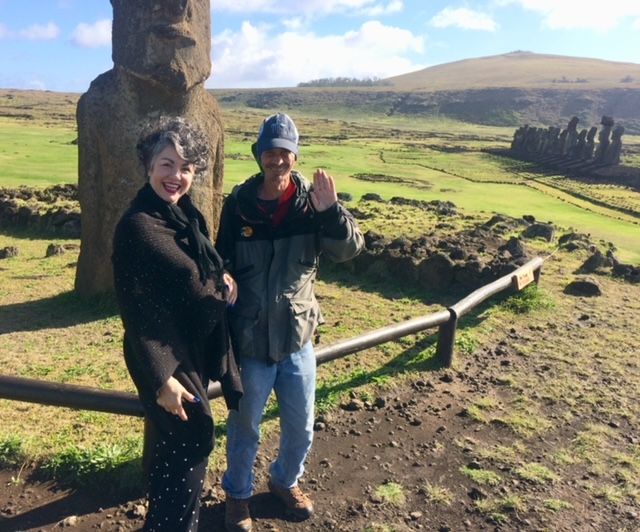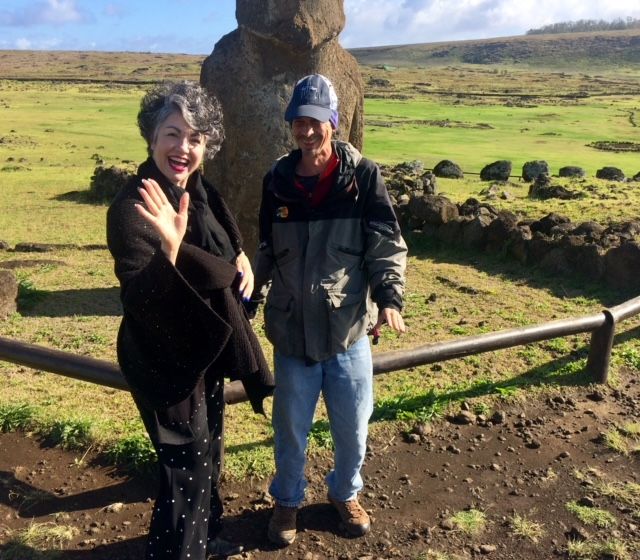 On the half day, we did the museum and the Rano Kau volcano. The name means "large volcano with a lot of water," which is apropos, as a lagoon about a kilometer and a half fills the crater and creates a natural greenhouse supporting the cultivation and preservation of endemic plant species.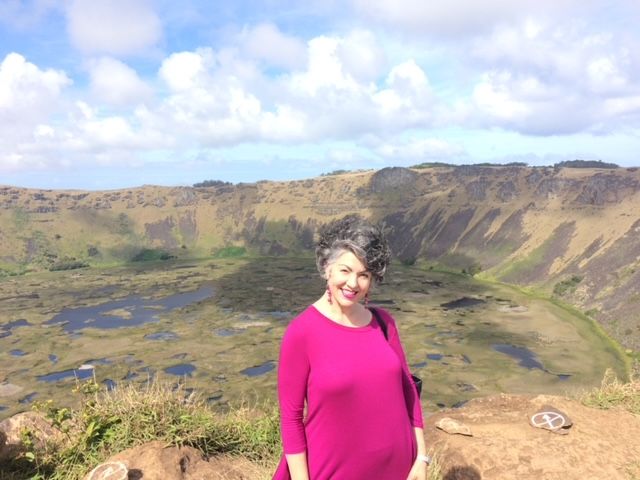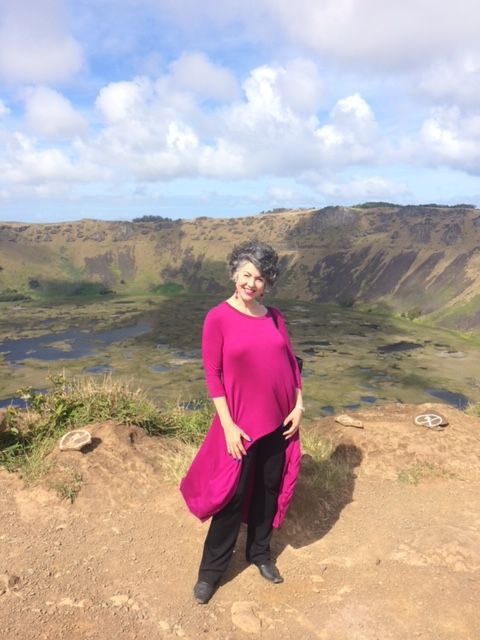 Ok, that was a lot of big words (did I sound super smart???)! In my humble opinion, the best way to describe something is to intersperse the technical or historical description with how it made me feel and my impressions. And my impression was this: it was vast and deep and slightly terrifying to think about falling over the edge down 200 meters to the caldera! But the day I was there was windy and clear, and I was treated to a breathtaking view.
After the crater, we went to the Sebatians Englert Museum (the only museum on the island, also known as the Anthropological Easter Island Museum), which is named after a German priest (1888 – 1969) who spent over 3 decades studying the traditions, language and archaeological heritage of the Rapa Nui. Chris did an amazing job of dispelling the myths and clarifying the facts of what they really know about the island's early inhabitants. Now, don't expect me to rattle off some fascinating factoids, because it's been a few years since I was there, and I really cannot be expected to remember the details (seriously, I can't remember what I had for breakfast, so this would be asking too much!).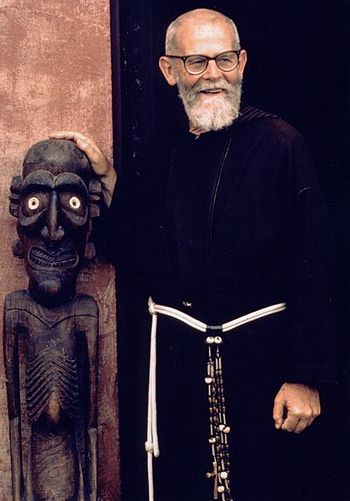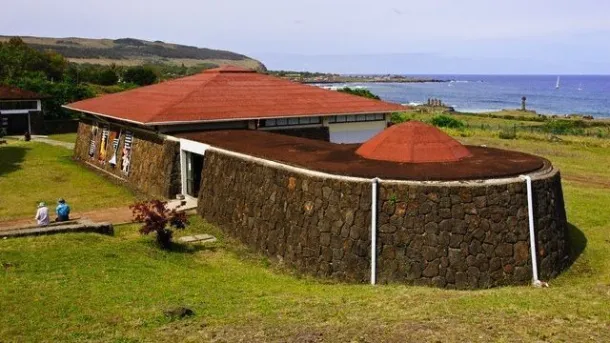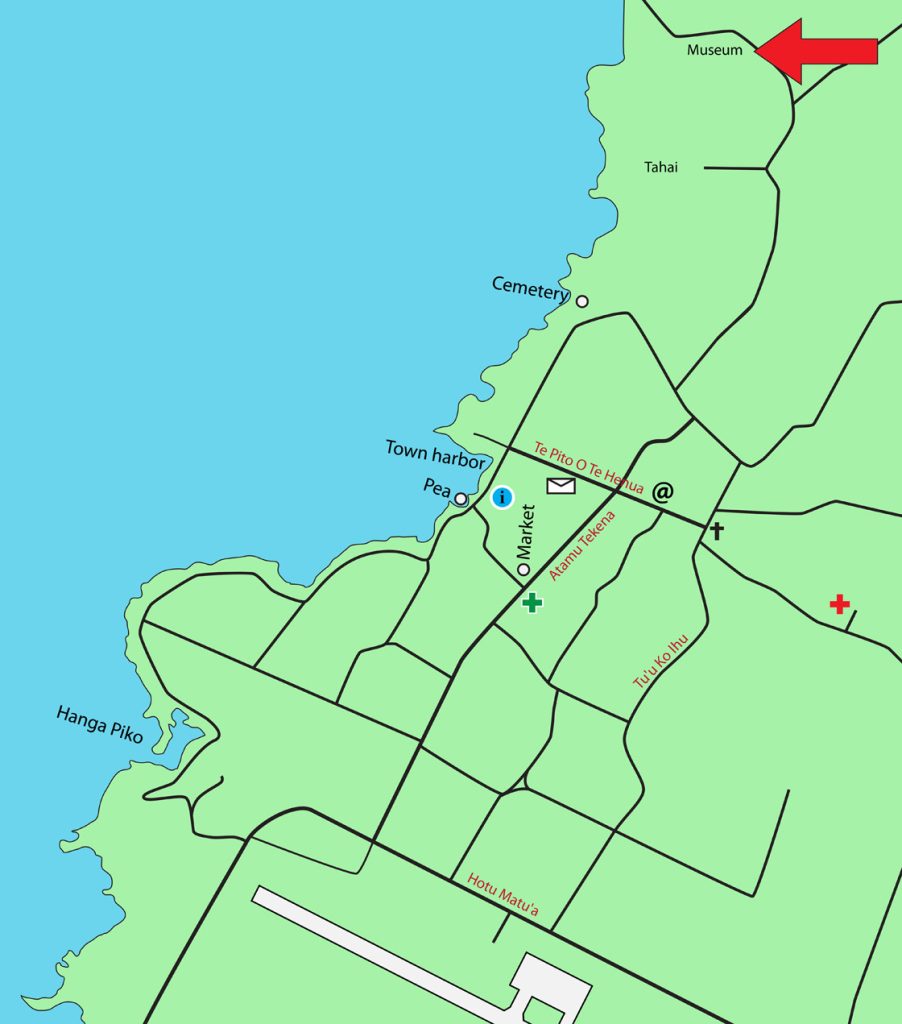 The next 2 days the winds howled and the temperatures plummeted. A couple times, the winds were so strong, it was hard to walk without feeling like I was going to be knocked down. But we pressed on, and it seemed each place we stopped was even more impressive than the last. Obviously, I should have taken notes, because I have photos without the location name (forgive me – I'll try to do better!)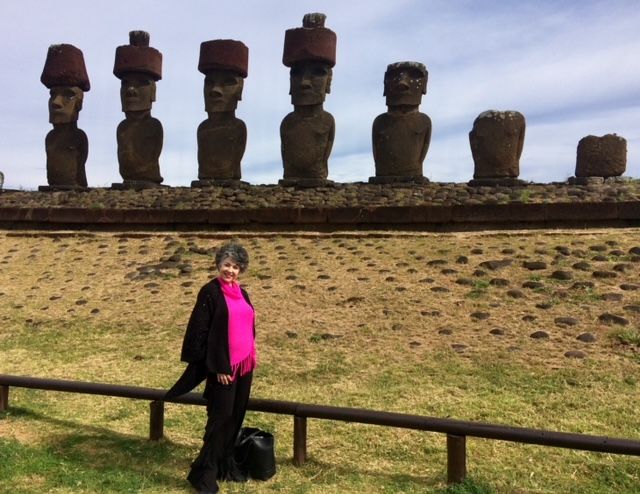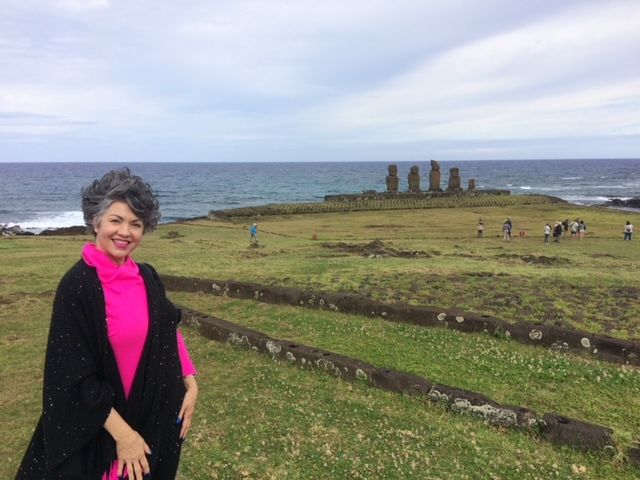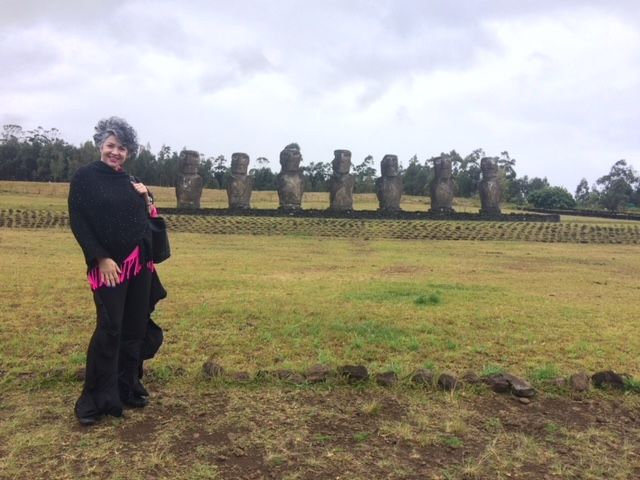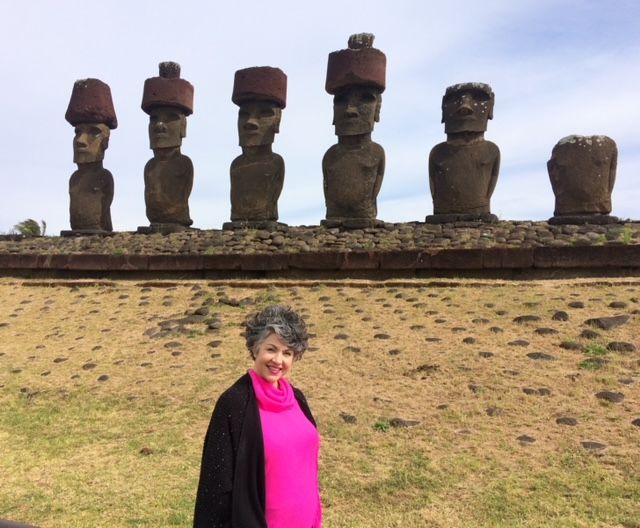 One of my favorite places was the quarry, a volcanic crater called Rano Raraku, where most of the moai (ranging up to 10 meters or 33 feet tall!) were carved directly into the volcanic stone. Nearly 900 were produced here, and hundreds are unfinished and remain attached to the rock face. Others started to be transported to be erected near the coastline, most likely by wooden sleds, but toppled over or broke along the way, and now just litter the grassy slopes. Another thing I found fascinating was that even after a couple hundred years, the tracks made by the transport carts are still visible!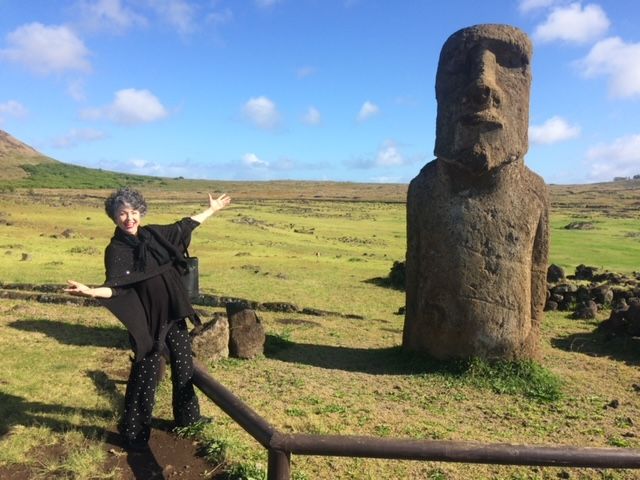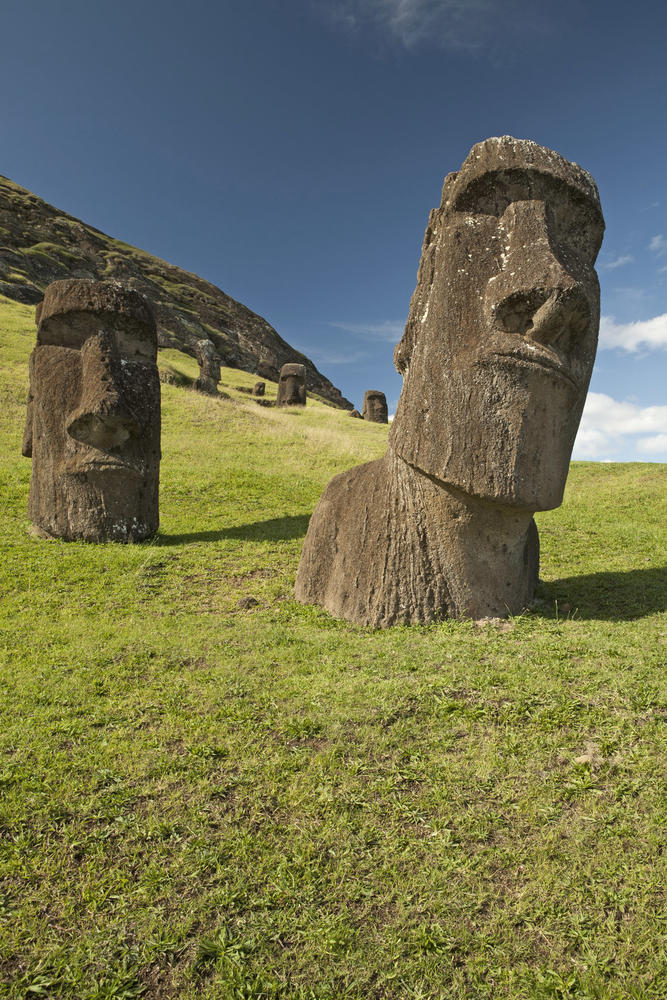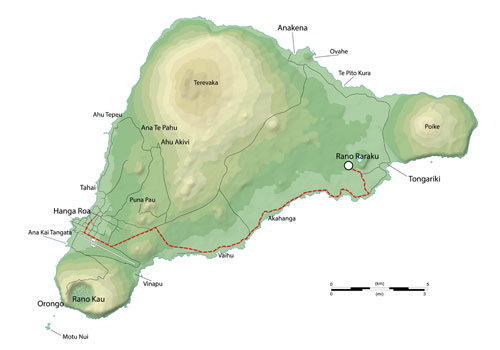 After thoroughly enjoying my time on Easter Island, I checked out of the hotel and went to the airport for my return flight. Unfortunately, because Santiago was experiencing riots, power outages and curfew, the one plane from Chile wasn't allowed to take off, which stranded hundreds of passengers. I quickly hailed a taxi back to my original hotel, but they had no vacancy. However, they were kind enough to call another hotel, so that I at least had a place to spend the night and wait to hear whether we would be allowed to depart the next day.
It just so happened to be a Sunday, and come around mid-afternoon, everything shut down. Had I not eaten a late lunch to kill time before my supposed departure, I would have been pretty hungry with NO place to eat until the next morning! But all things work together for good, and I was sort of forced to slow down, not worry about the flight to Patagonia I was going to miss on Monday, take a leisurely walk down to the beach, and stop to watch the local children playing soccer in front of a screaming crowd.
Needless to say, I made it back to the mainland safe and sound. If you have a love of history and culture, Easter Island will be all you can imagine and more. It certainly was for me!
Links:
https://www.history.com/topics/south-america/easter-island
https://en.wikipedia.org/wiki/Father_Sebastian_Englert_Anthropological_Museum
https://www.latamairlines.com/us/en